Discover Lifelong Adventures with St. Louis Oasis!
Whether you prefer in-person or virtual classes—we have them all!
Register for Oasis' Summer Classes!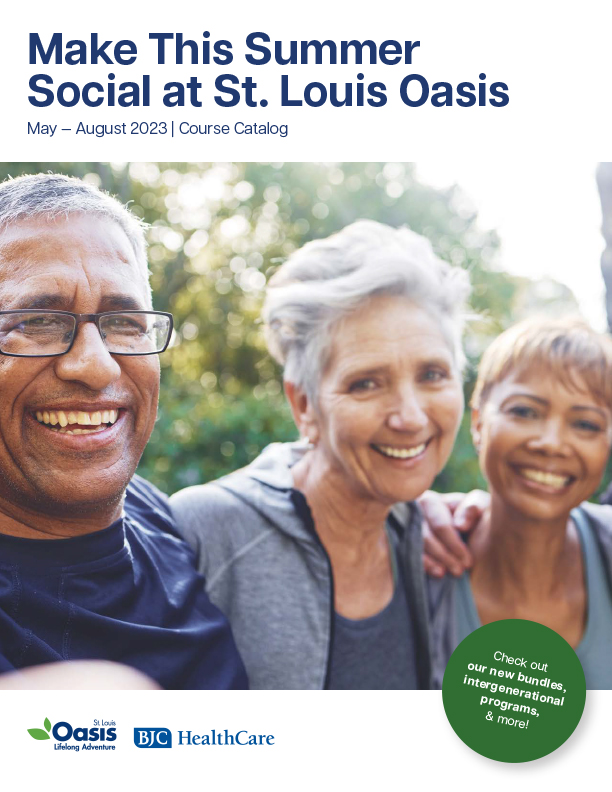 Summer 2023 classes offer a combination of 'fan favorites and brand-new topics.
A letter from Oasis President, Paul Weiss
Looking through our robust summer catalog, you will likely flip through pages until you find the programs and activities that are "your Oasis." For some people, "their Oasis" is a series of history classes, an exercise class, a discussion group, or perhaps a volunteer opportunity.
We hope you find each other regardless of how you find yourself at Oasis. One of the well-documented ways to "age well" is to stay socially connected with people with shared interests, activities, and experiences which is core to everything we do at Oasis.
Our online classes are all live interactive experiences that invite the possibility of new interpersonal connections, as opposed to recorded classes that do not. The power of being with others, of seeing others and being seen, of sharing your opinions, questions, or comments, and hearing and thinking about thoughts and ideas is part of the Oasis experience. As you look through our Summer catalog, I hope you take the opportunity to stretch your interests, try something new, and perhaps meet new friends in
the process!
Warmest Regards,
Paul Weiss
Oasis President
Take a peek at our catalog now and plan your summer curriculum!
SAVE WITH BUNDLING OPTIONS!
jamiev
Bundling Options Take advantage of our bundling options this semester! Throughout the catalog, we have opportunities to bundle classes together based on things like, topic—all marked with in green. Once you have chosen your bundle(s), go online, add of the classes to your cart, and your discount will be automatically Read More...
Click on any of the class category icons to view all classes in that category.
Learn more about Oasis's mission, work, programs, and people!
Participate in an Asthma Study
Oasis Institute Webmaster
HEAL Health Equity Advancement and Leadership Scan the QR code to take the Asthma Participant Eligibility Screener ADULTS WITH ASTHMA, YOU MAY BE ELIGIBLE Are you over age 50 and ready to take better control of your asthma? Join our free program: • Learn how to Read More...
Join our Stroke Survivorship Program!
jamiev
STROKE SURVIVORSHIP A 12-week program designed to help stroke survivors thrive after discharge from the hospital Class #2741: Stroke Survivorship Class #2741: Stroke Survivorship Multi-Session Class Thursdays & Fridays July 6–September 22 10 a.m.–12 p.m. Instructor: Oasis Health Facilitators Location: Read More...
Oasis is one of the nation's leading providers of programming older adults seek to continue learning, engage socially and improve health and wellness behaviors. For 40 years, Oasis has used a three-fold approach that experts agree makes getting older stimulating and more productive:
Lifelong Learning
Active Lifestyles
Volunteer Engagement
A pioneer in healthy aging, Oasis is committed to enriching the lives of older adults by offering innovative programs to satisfy curiosity and expand interests. Oasis understands and meets the diverse needs of the aging population.
Click below to view our classes
Resources and Useful Information
Oasis is United Way Strong
St. Louis Oasis is proud to be a part of the United Way's strong network of nonprofits and to also be a part of this year's campaign. We truly believe that together, we are stronger. Together, we are all United. Watch United Way's 2020 campaign video at WeAreAllUnited.org. #WeAreAllUnited #United4STL
Give the gift of Oasis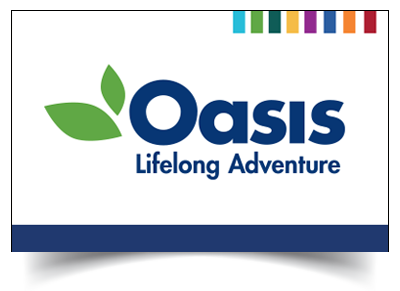 Think outside of the box! Instead of the run-of-the-mill gift ideas, share Oasis with family and friends.
Oasis gift certificates are available for purchase in any denomination. Order yours today!
Always the right size – Never expires – Perfect Fit
Medicare Questions and Counseling
Do you have questions about Medicare or the Health Insurance Marketplace? Insurance counselors are happy to help! Call 800-390-3330 for assistance or to learn more.
Inclement Weather
When classes are cancelled due to unsafe weather conditions, this information will be listed on Fox 2 News and KPLR News 11, as well as the St. Louis Oasis voicemail, website and Facebook page.