Take advantage of our bundling options this semester! Throughout the catalog, we have opportunities
to bundle classes together based on things like, topic—all marked with in green. Once you have chosen
your bundle(s), go online, add of the classes to your cart, and your discount will be automatically
applied upon checkout. Reminder: You are more than welcome to keep the classes separate if you are
only interested in taking one or a few classes listed in a bundle.
Music & Lyrics Bundle | $45
Hollywood Films & Music: The War Years 1941-1945
#2014/2014.V
Rock Lyrics as Poetry: A Musical Journey
#2015/2015.V OR IP #2073 | Page 4
Love Me or Leave Me
#2102/2102.V
That's Entertainment: St. Louis Music
#2060/2060.V
Box of Chocolates Bundle | $45
The History of Chocolate
#2072 OR #2041/2041.V OR #2092
The Truth About Chocolate
#2013/2013.V OR #2064 OR #2088
Ancestry & Origins | $20
Ancestry & Origins: Leaving Home
Clayton Oasis #2009/2009.V
Ancestry & Origins: Becoming an American
Clayton Oasis #2010/2010.V
Make the Most of Retirement | $30
Part-Time Work Resources for Full-Time Retirees
#2004/2004.V OR #2070
Retirement & Volunteerism
#2066/2066.V
Activate Your Purpose in Retirement
2032.V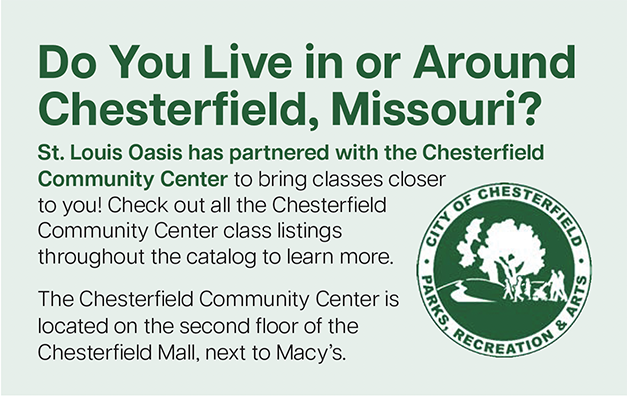 Sides of Self Bundle | $40
The Science of Self: An Introduction to Personality
#2016/2016.V
How Wide is Your Comfort Zone?
#2017/2017.V
The Science Behind Negative Emotions
#2018/2018.V
The Many Faces of Narcissism
#2019/2019.V
Build Your Own Bundle
Spend $50 get $5 off
Spend $100 get $10 off
Spend $200 get $20 off