Date: Thursdays –
April 23, April 30, May 7
Time: 8:30 a.m. to 4:30 p.m.
Class number:  #170
Location: Center of Clayton
Fee: $0
Give 5 is a program that matches Clayton, MO residents who are retired (or approaching retirement) with area nonprofits in a volunteer capacity. Each Give 5 class will meet from 8:30 a.m. to 4:30 p.m., once a week for three weeks, visiting a dozen nonprofits over the course of the program. This free program will enable participants to match their skills to nonprofit organizations' volunteer needs. At the completion of the program, you are asked to volunteer your time and talents for at least one year with one of the organizations you have visited. Please note that Give 5 participants must live in Clayton, Missouri.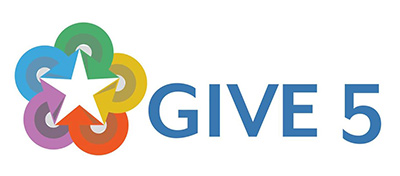 When former Mayor Jim O'Neal retired after decades running a trucking and logistics business, he looked forward to some down time and maybe a few weeks of travel in the RV that he and his wife Debbie bought a few years ago. What he was not expecting, however, was the disorienting feeling that so many retirees get after a lifetime keeping busy with a fulfilling career and civic engagement.
"It was definitely challenging for me," O'Neal said. The busy former Mayor was accustomed to a packed schedule and lots of interaction with people and ideas. He said the Give 5 program helped him plug back in.
"If a former mayor can feel isolated, anyone can," says Give 5 founder Greg Burris. Give 5 was launched in late 2017 as a civic engagement initiative.
Burris, a former city manager, recognized a series of macrotrends that he felt could be addressed with one, single program that helped connect retiring or retired baby boomers with meaningful volunteer opportunities in the community. Roughly 10,000 baby boomers are turning 65 every day in the United States, for a 19-year span. That wave of talent has skills, experience and for the first time in their lives, time.
The program's goal is to not only fulfill the needs of local nonprofit organizations, but to combat the social isolation and loss of purpose associated with retirement.
"No one tells us how to retire. We discuss our financial futures when getting ready for retirement, but no one tells you how it's going to feel when you turn in your key," Burris said.
Oasis has partnered with UnitedHealthcare to bring the Give 5 Civic Matchmaking Program to Clayton at no cost to participants.
It's a way for retirees and seniors to apply their talents and passions directly to a community's primary areas of need. "We call it civic matchmaking," Burris said. "The program provides the journey to find the best individual fit between program participant and nonprofit volunteer opportunity."
5 Macrotrends that Give 5 Addresses Simultaneously:
Wave of Talent on the Move – 10,000 baby boomers are turning 65 every day for 19 years, but most are not seeking a "traditional" retirement
Largest Boomer Health Risk – social isolation is a large and growing health issue
Growing Need to Strengthen Community Fabric – the power of a shared experience and meeting people outside of your bubble
Increased Importance of Volunteerism – nonprofits need additional skills and talents in this hyper-competitive labor market
Largest Transfer of Wealth in History – it's underway . . . where will those legacy gifts be directed?
Blog Author: Cora Scott