Living a Healthy Life with Chronic Conditions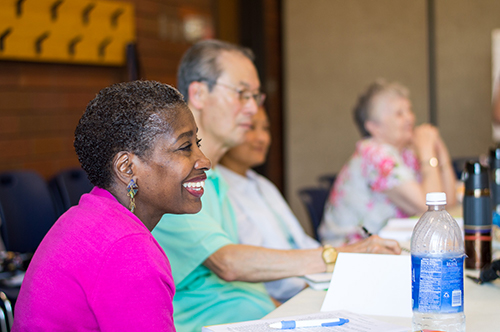 Developed by Stanford University's Patient Education Research Center, Living a Healthy Live with Chronic Conditions is a discussion-based, self-management workshop designed to empower adults living with chronic conditions. Participants discover strategies to improve their quality of life while managing the symptoms of chronic conditions such as heart disease, arthritis, diabetes, asthma, bronchitis or emphysema.
Learn how to:
Set healthy goals
Make action plans
Manage Pain
Embrace nutrition and exercise
Understand medication
Increase your confidence in managing your own health
And much more!
Workshops are located in St. Louis County, St. Louis City, Jefferson County, St. Charles, and neighboring counties in Illinois. Workshop settings include, but not limited to: Senior Centers, Community Centers, Hospitals, Libraries, and Independent Living Facilities.
"I stepped onto the path of being an active self-manager in every area of my life and I intend to stay on this path for the rest of my life."

-Anna Brown
Living a Healthy Life Workshop Participant