Healthy Habits for Adults in St. Louis
Achieving good health begins with adopting healthy habits. Healthy Habits for Adults is a series of one-hour health classes offered by Oasis and community partners. These fun and interactive classes include a healthy snack, recipe ideas, a nutrition lesson and low impact exercise.
Take a class
Get motivated by learning new tools to help you improve nutrition and increase exercise.
Some class offerings include:
The Skinny on Fat: Reducing fat in your diet
Eating the Rainbow: Love your colorful fruits and veggies
Shake the Salt Habit: Limiting salt in your diet
How Sweet It Is: Limiting sugar in your diet
The Whole Truth About Whole Grains
Eating Healthy on a Budget
Stay Regular: Enjoy the Power of Fiber in Your Diet
Dairy Foods: Calcium and Vitamin D Superstars
Protein: The Body's Own Superman
Fluids: Tips to Stay Hydrated and Make Healthy Beverage Choices
Teach a class
If you have an interest in health or have been successful in improving your own diet and exercise habits, you can lead a class. All materials are provided. Contact your Healthy Habits for Adults coordinator to get started.
Host a class
Healthy Habits for Adults classes can be held almost anywhere. Contact your Healthy Habits for Adults coordinator to learn more.
For more information, please contact Emir Kandzetovic, program coordinator at 314-862-2933 x 246 or
Healthy Habits = Confidence!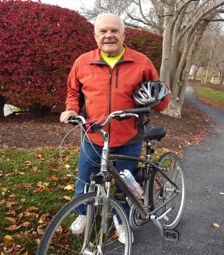 After participating in Healthy Habits for Adults classes, Wayne Chambers was motivated to become more active.
Watch Volunteer Class Leaders in Action!
Oasis Healthy Living Guides
What is keeping you from enjoying a healthier lifestyle?
Is it the time commitment?
The food? The cost?
These concerns can keep us from taking the next step. The good news is that eating well and being physically active can be easy, fun, and inexpensive.
Our free guides offer practical tips to make healthier living easy to understand and do. All the information is based on scientific research and proven best practices.