We have a problem in Missouri that we can solve…
Older adults in Missouri are 33% more likely to be injured from a fall than the national average. The misconception that falls are a normal part of aging needs to be dispelled!  Falls are NOT an inevitable part of aging. This National Fall Prevention Awareness Day, always the first day of fall, Oasis is hosting an event to increase awareness and knowledge to prevent falls. It's often a surprise how much control people can have to prevent a fall.
The National Fall Prevention Awareness Day event at the Kirkwood Community Center will be on Thursday, September 22, 2016. Oasis and many community partners will address the controllable risk factors that can lead to a fall and injury.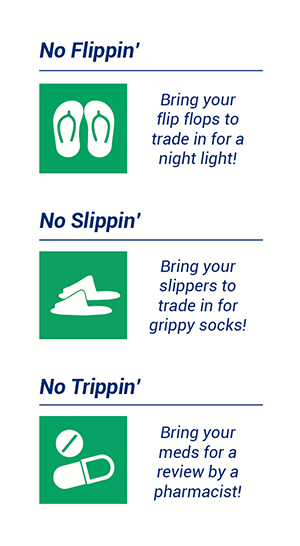 No flippin', slippin' or trippin'.
Reduce your risk by bringing three things to the event:
flip flops, slippers and your medications.  We'll trade the dangerous footwear for useful goodies that are safer.  Pharmacists will be on hand to review all of your medications to make sure you don't have an interaction 
that might lead to a fall.
See where you stand.
Screenings help detect a problem early enough to make a change to stay healthy.  This event will have screenings to test your balance, strength, agility, bone density, orthostatic blood pressure, vital signs, foot sensation, vision, hearing and more.  Healthcare professionals will help interpret your screening results to determine an individualized plan of action to prevent a fall.
Keep your home a sweet home.
Changing your home environment is vital to prevent a fall.  Learning about simple modifications, reorganization of cabinets and safer home products can all help keep your home a safe haven.  National Fall Prevention Awareness Day offers interactive, real life activities that can help you make small, inexpensive changes at home to prevent a fall.
Exercise your power.
We all lose 1% of our muscle mass after we turn 40. However, you do not have to succumb to this. You can keep your strength, flexibility and agility through exercise. The National Fall Prevention Awareness Day event will have a Tai Chi for Arthritis for Fall Prevention demonstration by Craig Miller, a Tai Chi Senior Trainer. Take the chance to learn a new form of exercise proven to keep you stable.
Steps to take, strides to make.
Oasis is addressing other fall prevention topics through interactive experiences.  Increase your chance to win home modification items and other prizes by participating in screenings, activities and games. Learn how to get in and out of a car more safely and how to best navigate a parking lot. Learn how to identify common hazards found in our "Little Living Room" scene. Bring your insurance card for a flu and pneumonia vaccine. Learn about Prop S and how it can help the community. Learn about incontinence and its link to prevent falls. Get your vitals tested by the Kirkwood Fire Department.  Eat a light lunch with us and have some fun!
Fall Prevention Awareness Day 2016
Thursday, September 22, 2016, 11:00am – 2:00pm
Kirkwood Community Center
111 S. Geyer Rd. St. Louis, MO 63122
The event is free, but please register online!
Or give us a call to register at (314) 862-2933 x245.
Are you on Facebook? Say that you plan to attend the event and invite friends!
Save