Better Choices, Better Health-Diabetes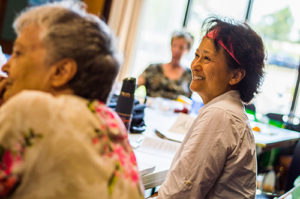 Living with diabetes can present many challenges, such as knowing how and when to eat, living your life so you can avoid complications, and getting the support you want from family and friends. A Better Choices, Better Health-Diabetes self-management workshop can help you manage these concerns and more. Benefit from support of others who know what you are going through.
Developed and tested at Stanford University, a Better Choices, Better Health-Diabetes workshop can help you:
Understand how to eat with diabetes while still making it enjoyable
Monitor and manage your blood sugar
Start or maintain a regular exercise program
Communicate better with family, friends, and your medical team
Design your own self-management program
And much more
Workshops are located in St. Louis County, St. Louis City, Jefferson County, St. Charles, and neighboring counties in Illinois. Workshop settings include, but not limited to: Senior Centers, Community Centers, Hospitals, Libraries, and Independent Living Facilities.
"The workshop teaches you not just what to do, but how to create an action plan to stick with it."

-Ruth Clerkley
Oasis Health Facilitator