THANK YOU to our Volunteers!
"Volunteers do not necessarily have the time; they have the heart." – Elizabeth Andrew
National Volunteer Week is this week and at Oasis we are lucky to have wonderful volunteers that serve with us in almost every facet of our organization. We are proud to honor them not only for this week but every day that they stand alongside us.
The theme for National Volunteer Week is Celebrate Service – an opportunity to shine a light on the people and causes that inspire us to serve. Volunteerism empowers individuals to find their purpose, to take their passion and turn it into meaningful change. At Oasis, that can be someone willing to answer a phone, lead a class, or read to a child.
What makes Oasis volunteers special is that they often are serving alongside their own peers. Volunteer Deborah Abbott remarked about her service that "Many people I talk to do not have others in their lives that they can talk to. So, if registering someone for a class involves listening to stories they have to tell, all the better that I can listen to them." It is nothing new to hear feelings of isolation are high in older adults, which makes having someone who they can relate to when they walk in the door is an invaluable opportunity.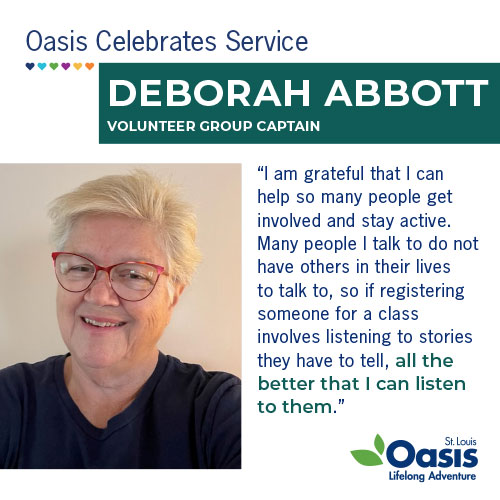 Motivations for volunteering are often singular to the individual that is serving. For Parks Smith, volunteering with Oasis is rewarding because he "gets to help people learn new things." Parks has served Oasis for 14 years in multiple instructional roles. Volunteer Tracy Battee cited that volunteering makes her feel "Good and grateful; I am glad that Oasis has this group for people with special and different abilities. We all need to feel that we belong."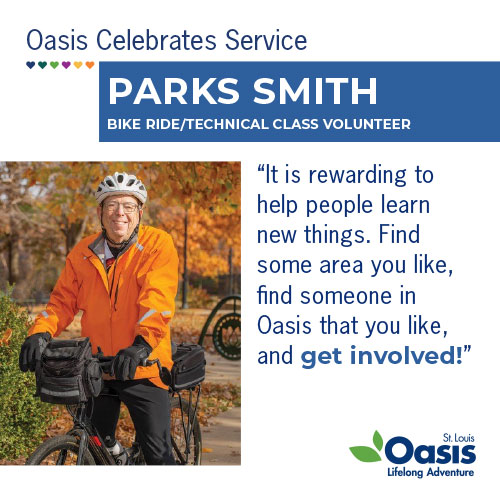 Elizabeth Lower serves as a tutor in Mexico, Missouri, a newer area that we were able to bring Oasis Tutoring to through generous funding from AmeriCorps Seniors. Elizabeth is a first-year tutor and is joining the hundreds of Oasis RSVP tutors who serve throughout Missouri. Elizabeth raved about Oasis tutoring saying, "I would tell someone who is interested in volunteering with Oasis that they provide the best training possible and that they will find it a rewarding, positive, and valuable experience".
Oasis provides a multitude of opportunities for older adults to serve in. Oasis volunteers bring their individual experiences, histories, and talents to make our programs even stronger. If you are interested in volunteering with Oasis, visit the Volunteer Engagement section of our website and select the option you find most appealing.