Oasis Tutoring and AmeriCorps, Stronger Together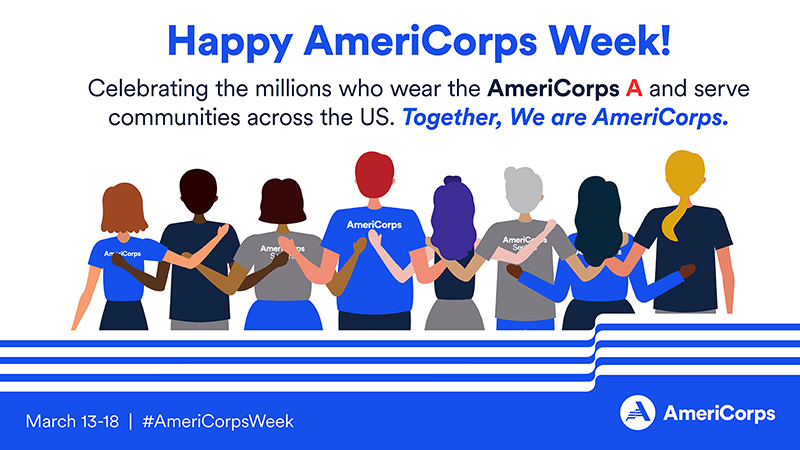 Oasis is an AmeriCorps Seniors grantee and receives funds through their RSVP program.
Currently, over 400 AmeriCorps Seniors volunteers serve Oasis in 10 counties throughout Missouri and Illinois. Tutors help over 600 children in grades K-3 to develop better literacy skills and improve academic performance. More than that, tutors become mentors to the children that they tutor over the course of the school year.
Every March, we celebrate AmeriCorps Week. This year we're celebrating March 13-19.
During AmeriCorps Week we recognize the commitment of not only the hundreds of Oasis RSVP tutors but also the millions of Americans who have chosen to serve their country through AmeriCorps and AmeriCorps Seniors and encourage more Americans to follow in their footsteps of service.
Over the last two years, Oasis RSVP tutors have had their dedication and perseverance put to the test as they continued to serve in new and at times challenging ways.  AmeriCorps Seniors member Nancy Hopkins was one of many RSVP tutors who trained to tutor children virtually using Zoom and an online book source called Epic!.  Learning to use technology to continue to serve was difficult for some but Nancy took to it so well that she tutored across different school districts to reach more children.   Rena Weaver, RSVP member in the St. Louis Public Schools, has been writing to 16 students while waiting for the district to reopen its doors.  These are just two of many tutors who rose to the occasion and are continuing to serve and help students soar despite the obstacles.
We are thankful for all the hard work by so many and are confident national service is ready to meet the moment and continue to help make an impact.
To learn more about AmeriCorps and its important role in Missouri and Illinois– click here https://americorps.gov/national-service-report/mo and https://americorps.gov/national-service-report/il
Together, we can help the country recover and come back stronger. Together, we are insurmountable.  
Post by Stephanie McCreary – Oasis Tutoring RSVP Grant Manager