Jacob A. Mahler, St. Louis' "oldest and best known dancing master" began teaching dance at age 11 in his father's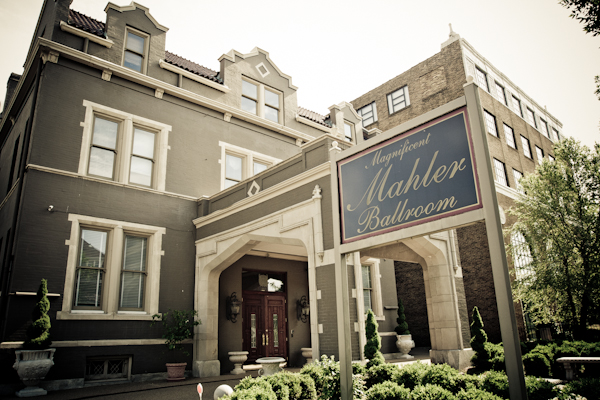 dance academy. He took over the business at age 17 in 1875 and was able to build his own splendid ballroom and residence in 1906 at 4911 Washington Street.
Mahler himself had a presence in St. Louis, serving as master of ceremonies for at least thirty-five Veiled Prophet Balls, was author of a book on cotillion figures, and published the Ostende which became an internationally popular dance in 1910. And for 22 summers, he was master of ceremonies at Congress Hall in Saratoga, New York and was well known in Europe.
Back then, the ballroom was in the countryside on the outskirts of St. Louis but accessible by trolley.
Today, restored to its Victorian elegance,
the Mahler Ballroom
hosts functions of distinction including weddings and receptions, birthday and anniversary parties and the like. The 4000-square foot space has 24-foot ceilings, and is beautifully appointed with period antiques. And has an adequate parking lot for cars as well as a great variety of restaurants within walking distance.
The dances in this program are linked to St. Louis in 1846, to English country dances at a pre-show in 1916 at the site where the MUNY outdoor theater now stands. The Lindy Hop and Fox Trot will make an appearance, and modern country dances from Gary Roodman, Bob Green, and Joseph Pimental will be included. Most of the dances will be taught, a few of the more complex dances will be demonstrated; non dancers will be welcome to observe. The event will benefit the Ballroom Dance Academy of St. Louis and St. Louis Oasis.