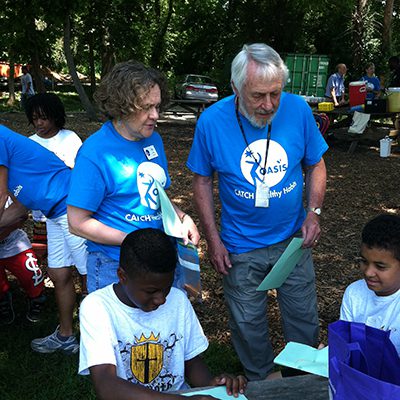 A popular myth is that children spend their summer days outside, running, playing and staying active. The reality, however, is quite different.
A recent survey by the YMCA and the American Academy of Pediatrics found that only half of children get at least 60 minutes of daily physical activity during the summer, and many children fail to eat recommended amounts of healthy fruits and vegetables daily. Furthermore, only 26 percent of kids spend more than an hour each day reading a book for fun during the summer. As a result, children are at risk of gaining weight and falling behind on their learning during the summer months.
Let's Read, Let's Move is a national initiative championed by First Lady Michelle Obama to increase awareness about the critical importance of summer learning, nutrition and physical activity. This summer Oasis is partnering with Strength and Honor (www.mysah.org/), a summer camp program for Ferguson youth, and the Ferguson Municipal Public Library (ferguson.lib.mo.us), to offer an intergenerational Let's Read Let's Move program at EarthDance Farms. A celebration event was held at the Farm on Tuesday June 23.
Video: The Let's Read Let's Move project is
featured on KPLR-TV 11 at bit.ly/1BgkL0z.
Volunteers from two programs – Oasis Intergenerational Tutoring and Oasis CATCH Healthy Habits – will work with boys in the Strength and Honor camp over the summer to promote reading, physical activity and healthy eating. CATCH Healthy Habits teaches kids the benefits of regular physical activity and good nutrition. Oasis Tutoring pairs volunteers with students to practice reading and writing, build confidence and experience success.
"This is a great way to help Ferguson's youth avoid the so-called 'summer slide'" said Elizabeth Pawloski, event coordinator for Oasis. "The combination of our evidence-based health and wellness and tutoring programs with Strength and Honor's summer camp and the library's reading initiatives will help reverse the negative trends we see across the country."
This summer, the First Lady has upped the ante with the #GimmeFive challenge, encouraging everyone to do five things to eat better, be more active, and lead a healthier life. Through the Let's Read Let's Move program at EarthDance Farms, kids and adults will take on that challenge together, making healthy snacks from five kinds of produce grown on the farm, reading five books and learning five new dance moves.
"Strength and Honor is all about redirecting our youth's way of thinking in hopes of giving them a fair chance at life," explained its founder, Al Harrold. "The inclusion of the Oasis CATCH Healthy Habits and Tutoring programs into our curriculum each week provides a proven way to help keep these boys healthy and learning throughout the summer. It's one more way we can help give these youth the opportunity to maximize their chance at becoming the best they can be by being strong, confident, honorable adults."
The Ferguson Library will bring donated books to share with the kids and explain how to get a library card. Each boy will go home with five new books to read.
The Oasis Let's Read Let's Move initiative is supported by the Corporation for National and Community Service and the Anthem Blue Cross and Blue Shield Foundation.
More volunteers are needed for Oasis Tutoring and CATCH Healthy Habits sessions in the St. Louis area starting later this summer or in the fall. Information about how to volunteer for each program is available here:
Thanks to our sponsors!