Bloated bureaucrats, mechanized technocrats, hypocritical clergymen and highly sexualized women are just a few of the iconic images that we have come to associate with the art of George Grosz. Renowned for his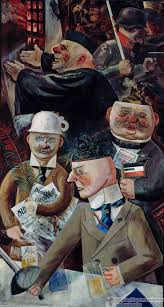 biting, satirical caricatures of Berlin society during the heyday of the Weimar Republic, Grosz's drawings, prints and paintings endure as indelible representations of failed governmental and cultural institutions amidst the chaos during and between both world wars.
While classically trained at the Dresden Academy of Fine Arts, Grosz was influenced by Expressionism and Futurism and experimented with a range of styles and media to express his often shifting ideologies after he moved to Berlin. His fascination since childhood with penny-dreadfuls, pulp fiction magazines illustrated with fantastic and macabre imagery, influenced his "propensity for grotesque satire and fantasy" in the form of charged, ironic caricatures of German society. As a renunciation of German nationalism in the wake of the First World War and a reflection of his infatuation with American popular culture, Grosz changing his name from Georg Groß to the more Anglicized George Grosz.
A prominent member of Berlin Dada, serving as the anti-art movement's "Prapagandada," and member of the German Communist Party (KPD), Grosz employed his photomontages, paintings and illustrations as both indictments of German society and sensational attempts to gain notoriety among modern art patrons.
Targeted by the Nazis along with other avant-garde artists, including Max Beckmann, Ernst Ludwig Kirchner and Marc Chagall, Grosz left Germany with his family just prior to Hitler becoming Chancellor to teach art at the Art Students League in New York intermittently until 1955. While a powerful influence on American modernism, Grosz, the naturalized U.S. citizen, later abandoned his trademark satirical subject matter, returning to more representational and benign landscapes, portraits and genre scenes. He died in 1959 during a return visit to Berlin.
Register now to attend Peter Holtgrave's lecture on April 29 and learn more about Grosz.