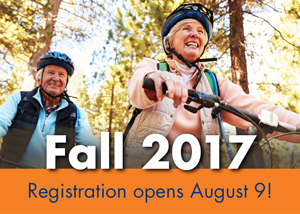 Learn, stay active and volunteer with us.
St. Louis Oasis is an organization that offers opportunities for lifelong learning, healthy living and volunteer engagement.
Enjoy our adult education classes and explore ways to use
your experience to benefit your community.
See our catalog | Register for classes
---
Coming up this Fall…
It's a great time to talk about The Great War
One hundred years ago, the United States was embroiled in The Great War, now known as World War I. It was a watershed moment of the 20th Century, setting the stage for World War II and placing the U.S. as a leader in the world order. Through lectures, tours and interactive discussions, learn about the politics and people of the World War I era with Oasis this fall. Join us for special programs by historian NiNi Harris, Jefferson Barracks Curator Mike Venso, and  Webster University Professor Dr. John Chappell. 
We're back at Eden Seminary and Webster University
Join us for an array of classes led by knowledgeable professors as we discuss Thought-Provoking Short Stories and W.C. Handy: "Father of the Blues." Take a campus tour of Webster University to see a host of public art designed to inspire intellectual dialogue.
New partnerships and new programs
St. Louis Oasis is excited to announce its new collaboration with Maryville University and the City of Chesterfield! Join us for a variety of learning opportunities led by dynamic Maryville professors at Chesterfield City Hall. We'll discuss Modern Architecture, American Pop Culture, Civil War Photography, the Last Medici Princess, and Tender Is the Night.
Mark your calendar for our special events in September
Tech Talks – Ensure that your technology is safe and accessible. Join us for a free event on September 8 with mini-sessions, hands-on tech help and refreshments!
Giveback Tuesday – We're partnering with Katie's Pizza & Pasta Osteria for a special fundraising event on September 12. All profits from food and beverage purchases will be donated to Oasis!
Fall Prevention Awareness Day – Join us for this free event on September 22 with falls risk assessments, flu vaccinations, games, giveaways, a light lunch and more!
More classes to enjoy:
Art – Explore a variety of artistic periods, discuss iconic paintings, and learn to create your own art.
Current Events – Cover local St. Louis issues, national news and global affairs.
Exercise – Develop a new fitness routine in classes like Gentle Chair Yoga, Better Balance and Line Dancing.
Health and Wellness – Learn about improving brain function, diabetes self-management and health ethics.
Hiking & Biking – Take a ride with the Oasis biking group or hike through a beautiful greenway.
History – Discuss The Great War, local government, Women's Suffrage and the business of sports.
Literature – Join book discussions, meet published authors or improve your creative writing skills!
Music – Share your musical talents in the Oasis folk singing group, concert band or jazz ensemble.
Performing Arts – Enjoy live theater or join discussions that feature iconic movie stars and directors.
Technology – Update your smart phone, iPad and computer skills.
Tours and Travel – Hop on a bus, and "do some time" at the old state penitentiary, learn more about historic Alton's involvement in the Underground Railroad, and see St. Louis Public Library's beautiful renovations.
Looking for a community service opportunity?
Volunteering is a great way to help others in your community, make new friends and make use of your experience. We have opportunities for people to tutor children, lead classes and more. See our volunteer service opportunities.