This is Mary Saputo, your instructor for the Classic Hollywood Series, thinking of all of you and hoping we can connect in person very soon. Hey, who knows? I might start a video blog!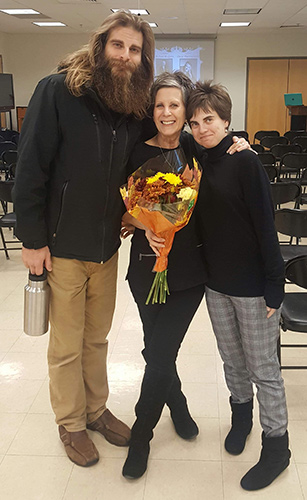 You know, I will probably never forget the day that I called this organization way back in 2014 when my little business, Somewhere In Time, was barely a year old. I was so honored that this amazing group of people decided to take a chance and include my presentations in their catalog. And, here we are, 6 years and approximately 50 presentations later, and my heart continues to be full just to walk in the door, set up, and greet my fans each time.
I have always been a fan of Old Hollywood films and stars, and people ask me all the time; "How did you get into this?" I usually respond, "Oh, I don't know, it's a long story."
The truth? Back in 2010, my beloved father, who was 92 years young, was in an assisted care facility for the last 6 months and I visited him every day. Yep, every day. We had lost my Mom in 2008 and my Dad was everything to me. Visiting there always gave me the sense of a large extended family, just because I saw the same people every day hungering for someone to talk to or interact with them. When Christmas-time rolled around, I thought it would be fun to gather everyone for a movie night with one of my favorite films, Christmas in Connecticut with Barbara Stanwyck. But first, I would tell them a little background information on its stars and, of course, some trivia, before we started the film. And there my Dad sat, in the back, silently smiling.
A week went by, and it was more and more apparent that my father's brain tumor was finally pressing on the area of his brain that controlled his speech and he was rarely talking with us anymore. But one afternoon, out of the blue, he tried to form a sentence and I was all ears as I patiently waited for him to complete his thought. He started, "I meant to tell you…." Yes, Daddy, I replied, what did you mean to tell me? "I meant to tell you…that I was…" Go ahead, I said. "That I was …so proud of you…that night."
And, of course he was referring to the night of my little speech before the movie. I think I dissolved into a puddle of tears. It meant the world to me to hear that, and more so later, when I realized it was the last words he would speak directly to me, because he passed away just days later after midnight on Christmas night. And yes, I was there, as was my oldest daughter.
A techie friend of mine encouraged me in 2012/2013 to take this idea of Old Hollywood films/stars and expand it into what it is today. Yes, it takes me about 40-man hours to put together a presentation, but it is always with joy in my heart. And each subject becomes like a familiar friend throughout the process, which is why you will sometimes hear my voice crack at the end when I get to my "Tribute" slide. It's always hard to let them go; all of them – Doris, Irene, Ginger, Mickey…and of course, my pretend boyfriend, Tyrone.
I can't wait to see you all very soon. You always know that I mean it when I say, "It's been my absolute pleasure to be here with you!"
P.S. The picture of me with flowers is from my birthday show back in November – Rodgers and Hammerstein. My little daughter, Aly, whom most of you see at every presentation, and that's my musician son, Gant – flowers from him and his significant other!
Tell us about your favorite Old Hollywood classic film and characters in the comment section below.