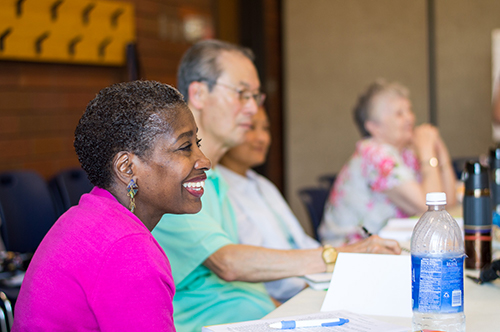 4204 Aging Mastery Program® (AMP) – Facilitator Training
Become a facilitator for the Aging Mastery Program! Receive training and support from Oasis to deliver this evidence-based program to older adults in your community. Training takes place virtually over Zoom video and consists of only one class!
About The Aging Mastery Program (AMP):
The Aging Mastery Program is a unique 10-week curriculum developed by the National Council on Aging to provide older adults with resources for healthy aging. Oasis Coordinators will bring in expert speakers each week to present each class topic. Your role as a facilitator is to foster a welcoming environment and encourage participants to discuss class topics related to healthy aging. All class materials, including a detailed facilitator guide and PowerPoints will be provided. Once you register for this training, an Oasis Coordinator will reach out by email 1-2 weeks before the start date to provide additional details.
Training session:
4204 Aging Mastery Program® (AMP) – Facilitator Training
Friday, July 8
11 a.m.–2 p.m.
Instructor: Oasis Health Facilitators
Location: Zoom video